Dexter Chang takes over as new chairman of PwC Taiwan
View this page in: 中文
Date of Release: 2013/06/18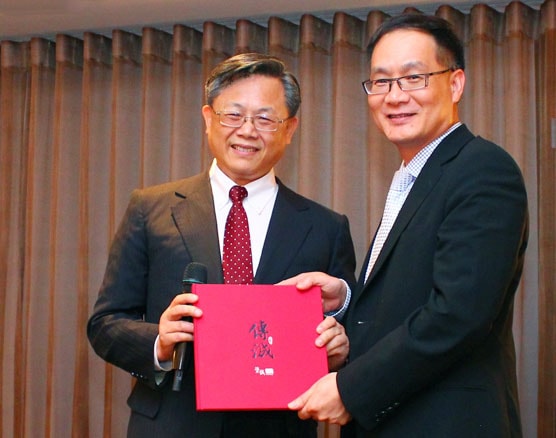 Dexter Chang(right) took over as chairman of PwC Taiwan on the retirement of former chairman Albert Hsueh(left)
On July 1, 2013, Dexter Chang took over as chairman of PwC Taiwan on the retirement of former chairman Albert Hsueh. A gala dinner was held in late June to celebrate Albert's chairmanship. The event was attended by all PwC Taiwan partners as well as the senior partner leaders of the PwC China, Hong Kong, Singapore firms.
At the gala, the then CEO of PwC Taiwan Dexter Chang lauded Albert Hsueh's leadership, saying he had successfully followed in the footsteps of PwC Taiwan's founders Kuo-chang Chu and Cheng-hsien Chen, and former chairman Springfield Lai, to maintain the firm's spirit of honesty, trustworthiness, persistence and integrity. After becoming chairman in 2006, Albert placed further emphasis on professionalism and quality services, and oversaw significant business growth during his tenure.
Looking to the future, Dexter Chang said integrity will continue to be the key touchstone for the firm, while holding fast to professionalism and quality services, and boosting the firm's reputation through corporate social responsibility efforts.
Also speaking at the gala, Albert Hsueh said that he had much to be grateful for during his 33 years at PwC Taiwan. He gave thanks to all members of the firm, saying that PwC Taiwan was where it was today due to their efforts and contributions.
When PwC Taiwan celebrated its 40th founding anniversary in 2010, a commemorative book was published to mark the occasion and reaffirm the firm's commitment to honesty, trustworthiness and integrity. At the gala, Albert gave a copy of book to Dexter as a token of passing on the firm's heritage, and encouraged him to hold fast to superior traditions and to achieve as yet unfulfilled goals.
Despite stepping down as PwC Taiwan Chairman, Albert Hsueh will continue to contribute to the firm's corporate social responsibility efforts by serving as the Chairman of the PricewaterhouseCoopers Education Foundation.